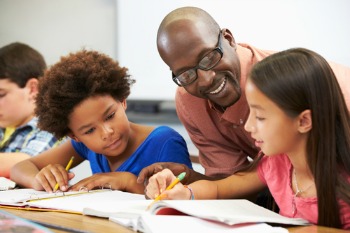 Teachers are 'deeply concerned' about the effects of poverty and low income on their pupils, a new survey of education professionals has revealed.
The poll of more than 8,000 teachers, school leaders and support staff from across the UK found that 91% agreed that poverty was having an impact on learning.
Half the survey respondents said it was a 'significant factor' in their pupils' education.
Published by the National Education Union, the survey also found that most to the respondents felt there had been a change in the 'presence and effect' of poverty or low income on pupils since 2016.
Half of the respondents (50%) said they believed things had got worse or significantly worse.
Less than a third (30%) described the situation as consistent with 2016 and just 2% described an improved situation.
Over three-quarters of respondents told the NEU that their students demonstrated fatigue (78%), poor concentration (76%) or poor behaviour (75%).
More than half of members said their students had experienced hunger (57%) or ill health (50%) as a result of poverty, and more than a third (35%) said students had been bullied because of it.
'Government does not want to hear these stories from the frontline of teaching, but they must. It is truly shaming for the UK, one of the richest countries in the world,' said Dr Mary Bousted, joint general secretary of the NEU.
'A decade of austerity has only served to place more children in poverty, while at the same time destroying the support structures for poor families. This was an ideological strategy and the findings of this survey are its effects.'
'Put simply, the Government is failing to recognise the human costs of its actions,' Dr Bousted continued.
'Government must stop blaming schools for the impact of its austerity policies upon the most vulnerable in our society and take action to alleviate the suffering of the increasing numbers who are living in poverty.'
Minister for children and families Nadhim Zahawi said: 'Tackling disadvantage will always be a priority for this government. Employment is at a record high and wages are outstripping inflation, but we know some families need more help.
'While all infant children can benefit from our Universal Infant Free School Meals programme, we are making sure that more than a million of the most disadvantaged children are also accessing free school meals throughout their education – saving families around £400 per year.
'We are also investing £9m to give more access to holiday clubs where they can benefit from activities and a nutritious meal during the school break.'