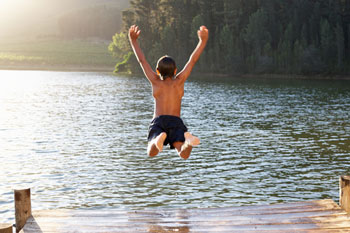 Swimming and classroom lessons should teach children about the dangers of cold water shock, council chiefs say.
The call comes as new figures reveal a 25% rise in the number of young people drowning accidentally.
The Local Government Association (LGA) has warned even strong swimmers can struggle after jumping into cold seas, rivers, canals and lakes where temperatures can be as low as 15C in the summer - half that of typical swimming pools heated to 30C.
Swimming lessons should teach children about cold water shock, the LGA says. And pupils should receive the safety advice as part of personal, social, health and economic (PSHE) lessons.
The latest figures from the National Water Safety Forum (NWSF) show that 300 people died in accidental drownings in the UK last year.
The number of people aged 19 and under who drowned in the UK has risen by 25%, from 32 in 2015 to 40 in 2016, while drownings in canals and lakes rose by 24%, from 45 to 56, over the same period.
More than twice the number of people drowned while walking or running (77) than swimming (30) last year, while others drowned while cycling and climbing or rescuing animals on the spur of the moment.
The LGA also urged the Government to include 'near-miss' statistics, sourced from fire and rescue service data, to be included in the Water Incident Database.
'The need for education is clear if the death toll on our waterways and coastline is to be reduced, especially when many people drown after having had no intention of going into particularly deep water or after entering the water on the spur of the moment,' Cllr Simon Blackburn, chair of the LGA's safer and stronger communities board.
'We need to ensure that every child learns to swim and that while doing so they also learn about cold water shock which will help them to understand the risks to improve water safety across the country.'
The LGA also said anyone who falls into water can increase their survival chances by floating for a minute or two. This will help them regain control of their breathing while the effects of cold water shock pass.