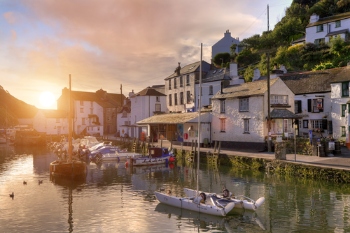 New research suggests business rates relief for holiday lets is currently worth £110m a year.
Property agents Colliers has argued the tax exemptions for holiday homes are 'unfair'.
Owners can class a property as a holiday let if it is available to rent for 140 days, meaning it will become liable for business rates instead of council tax.
As small businesses, they can then claim 100% rates relief.
Colliers has calculated there are 73,000 holiday let properties in England and Wales eligible for the discount and would pay £110m if they were liable for council tax.
In Cornwall alone, there are 10,701 holiday let properties that do not pay either business rates or council tax, which would be worth an extra £18m to the local authority.
Colliers' head of business rates John Webber said 'Given the pressure on local authority finances, we find it incongruous that this loophole has not been closed and it is unfair that the local tax burden remains weighed onto local residents or other types of businesses that are struggling to pay their bills.'
In Scotland, Edinburgh City Council is currently consulting on plans for tighter planning controls on short-term lets.
If approved and rubber-stamped by the Scottish Government, the whole city would be designated as a short term let (STL) control area, meaning they would require change of use planning permission unless they have been operating for more than 10 years.
The Scottish Government is also currently consulting on legislation to introduce licensing requirements for short-term lets next year.
Vice-Convener of the council's planning committee, Maureen Child, said: 'It's great to see so much progress being made to tackle this issue we have campaigned so hard to address.
'This is so important as STLs have reduced the city's housing stock, hollowed out communities and caused numerous issues for residents such as noise and other anti-social behaviour.
'I look forward to seeing these new powers being used to improve the lives of many of our residents throughout the city.'