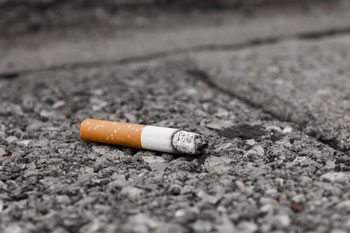 Designated areas for smokers can help tackle the expensive problem of discarded cigarette butts, claim Keep Britain Tidy.
The environmental charity is unveiling its new 'smoking zones' research today in Westminster at the re-launch of the Tidy Britain All-Party Parliamentary Group (APPG).
More than 244 million cigarette butts are dropped in the UK every year, and that adds up to 104 tonnes – the weight of 13 double-decker buses.
A designated area where smokers could smoke and throw away their butts was trialled by Keep Britain Tidy's Centre for Social Innovation on the concourse outside London's Euston station.
There was, according to the charity, an 89% reduction in the number of smokers observed throwing their butts on the ground.
The special areas are intended to encourage smokers to be more aware of where they dispose of their finished cigarettes.
Keep Britain Tidy's chief executive Allison Ogden-Newton said: 'We are delighted that our smoking zones have been effective in tackling a problem that affects everywhere in this country.
'The expert messaging and nudge techniques developed by Keep Britain Tidy, alongside the suitable very visible provision, have the potential to be highly effective in reducing the problem at smoking hotspots.'