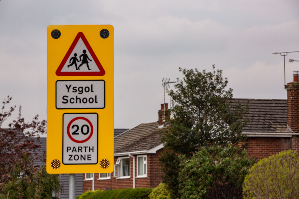 Renowned for its innovative traffic control systems and illuminated traffic signs, Winsford-based TWM is urging local authorities across the UK to review the signage outside local schools before the clocks go back in October.
It is estimated that there is an increase of 20 road accidents each day when the clocks go back, with three quarters of the extra collisions occurring in the afternoons.
TWM has seen a considerable increase in the number of enquiries from schools looking to review and install new signage in the areas immediately around their grounds. The traffic control systems specialists urge other local authorities to follow suit before October 27th when the clocks are changed.
Kevin Marshall, Company Director at TWM said: "It's fantastic that a number of local authorities have already contacted us to update signage as it's vital that the safety of schoolchildren is prioritised when the darker nights draw in.
"At TWM, we have a passion for developing equipment that brings enhanced road safety to both drivers and pedestrians and our range of safe route to school signs do exactly that.
"If any schools or local authorities are concerned about their current signage or lack of it then our qualified team will be on hand to help."
TWM's safe route to school signs include the 'part time speed sign with corner clusters' and 'school flashing warning sign LED twin amber flasher'.
All variations of signage and signals can be controlled by various means including the NEW cloud based TWM Central Management System (CMS), Talento time switches, handheld remote-control device or by GSM text messaging.
For further information visit www.twmtraffic.com