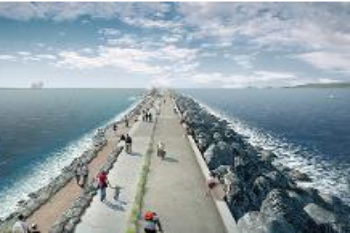 Swansea Council has welcomed a £200m offer from the Welsh government to support its tidal lagoon project after Westminster suggested it did not offer value for money.
First minister Carwyn Jones made the offer in a letter to business secretary Greg Clarke, saying the Welsh government was prepared to put in cash to 'enable the project to move forward'.
Rob Stewart, the leader of Swansea Council, said the pledge made the proposed Swansea Bay tidal lagoon more cost-effective and attractive to Westminster.
However, a Whitehall source told the BBC that the offer was not enough to make the £1.3bn project viable.
'There are offers, and there are serious offers. £200m doesn't really touch the sides,' they said.
The tidal lagoon was originally backed in January 2017 by a UK government-commissioned report published by former energy minister Charles Hendry.
Since then UK ministers have backed away from the project due to concerns it was not affordable.
Welsh council chiefs have criticised the UK Government's decision not to progress plans for the tidal project.
WLGA leader Cllr Debbie Wilcox said: 'WLGA and Welsh councils have been strong supporters of the construction of a tidal lagoon in Swansea Bay over recent years.
'We have met the developers and supported the work that Swansea council has undertaken with Welsh Government to bring this game-changing project to the city.'
Cllr Wilcox also quoted the conclusion to the Hendry report, which states: 'I conclude that tidal lagoons would help deliver security of supply; they would assist in delivering our decarbonisation commitments; and they would bring real and substantial opportunities for the UK supply chain'
'Unfortunately, there appears to be a lack of vision and commitment when it comes to the City of Swansea from Westminster,' she added.
Cllr Stewart said the lagoon would help the UK lead the world in the energy industry at a time when there was economic uncertainty post-Brexit.
'This is a game-changer,' he continued, 'and I hope the UK Government recognises it because we cannot let this opportunity slip through our hands.'