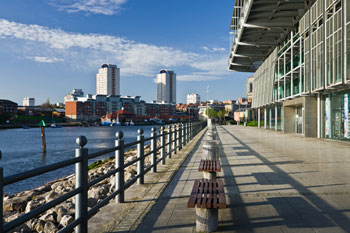 Building work has started on Sunderland's biggest ever regeneration project.
Representatives from the Siglion partnership started work at the Vaux site in the city centre yesterday.
The site has been empty since 1999 and is the first to be developed as part of a 20-year regeneration programme by the joint venture, which includes Sunderland City Council, Carillion and igloo Regeneration.
A 60,000 sq ft office building will be built, along with associated infrastructure and landscaping work.
The development will also include a hotel, restaurants and shops, with the first building due to be completed in June 2018, in time for the Tall Ship Race's visit to Sunderland.
'This is a momentous day for Sunderland as work begins on this major redevelopment on a prime site which has stood idle for far too long,' said Sunderland leader and Siglion chair, Cllr Paul Watson.
'A huge amount of work has gone into the plans and designs, which will now start to see fruition.'
Siglion's chief executive, John Seager, added: 'This will have a transformative effect on the city centre, both during the building phase and afterwards as we add to the infrastructure.
'This really is an iconic site for Sunderland, and will attract people, jobs and money into the city centre for many years to come.'
In a separate development, West Sussex CC has bought a disused 18.6-acre site in Horsham, which it plans to turn into a business park.
'We have major ambitions to attract businesses from the health and life science sector as we know this is a growing industry with huge potential,' said council leader, Cllr Louise Goldsmith.
'We are also interested in attracting leading companies and new businesses to West Sussex to create new jobs and opportunities.'