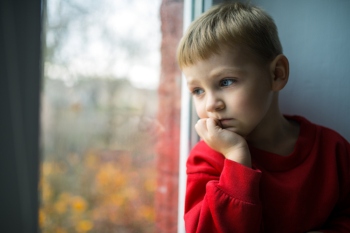 Child poverty contributed to more than 10,000 young people entering care over the course of five years, a new study has found.
Researchers from Liverpool and Huddersfield universities said the 'preventable' situation was heaping pressure on local authorities.
Published in The Lancet, the study used pre-pandemic data from 147 councils in England between 2015 and 2020 and compared it with information on low-income families from the Department for Work and Pensions and rates of children entering care from the Department for Education.
Researchers estimated that 8% of those entering care could be linked to child poverty - equivalent to more than 10,000 children - costing local government about £1.4bn.
They added that in England, the burden fell 'disproportionately' on the North East and parts of the North West.
Senior author, Professor David Taylor-Robinson, said: 'This study shows that rising child poverty is putting unnecessary stresses and strains on families, increasing the risk of children being abused or neglected and ending up in the care system.
'This is all the more shocking since child poverty is preventable in a rich country like the UK.'
The study's lead author, Davara Bennett, said efforts at easing levels of poverty would reduce the burden on local government.
'National anti-poverty policies are key to safely tackling adverse trends in care entry. This would, in turn, relieve the unsustainable pressure on local authority budgets increasingly devoted to costly placements for children in care at the expense of preventative children's services.'
The study was funded by National Institute for Health and Care Research, Public Health Policy research Unit, and School for Public Health Research.