A few years ago, Stockton-on-Tees was just another town in the North East of England showing all the signs of post-industrial decline. Shops in its high street were closing, fewer people were visiting the town centre and confidence among investors was low.
In 2011, however, the Stockton-on-Tees Borough Council decided to do something about it. A bold new regeneration strategy was adopted to change things for the better and create a new kind of high street that people might visit for reasons other than shopping. The vision was captured in a town centre prospectus aiming to reinvigorate the high street and surrounding areas.
Investment in Stockton's public spaces was planned as part of a £38m regeneration vision to create 'a modern vibrant and successful market town and a destination for world class events'.
It had some solid bases on which to build: the Stockton International Riverside Festival was an extremely successful annual event going back more than three decades. The aim now was to create 'a festival all year round'.
An important part of the strategy was to support independent businesses and provide a platform for start-ups to test the market, drawing on Stockton's heritage as an important industrial centre and recreating 'a distinctive and authentic sense of place'.
Among a wide range of initiatives, the town centre Georgian Theatre was restored and, along with the arts centre, provided the basis for a growing evening economy. Before long there were more than 50 bars, pubs and restaurants supporting a thriving live music scene. People were staying longer and enjoying themselves in the town centre once again.
A former department store was turned into an 'enterprise arcade', the Fountain Shopping Mall, to provide opportunities for start-up retail businesses to trade in a high street environment. It offered affordable low-risk space for new enterprises to enter the market without the risk of long-term leases or high rents.
The council introduced a wide range of business growth initiatives to ensure the town centre attracted and supported retailers, including a retail grant scheme to encourage businesses to occupy previously vacant premises, a business rate discount scheme, giving a 50% reduction of rates for two years, and a shop frontage scheme to support new signage and general improvements to retail outlets.
A dedicated retail support service gave shop owners and managers mentoring and start-up advice on everything from merchandising and window displays to training and finding the right suppliers, and support was provided to encourage redevelopment of office space at several locations, aiming to attract new businesses including digital start-ups.
Ambitious steps were taken to provide good quality housing for local residents. Large scale demolition and redevelopment of older housing stock was carried out to provide everything from stylish modern apartments to contemporary family homes in a riverside setting, all in or within easy reach of the town centre.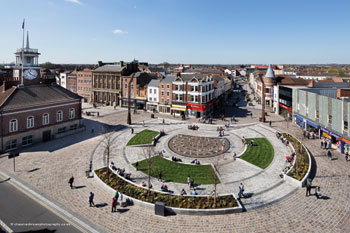 Stockton's proud industrial heritage was at the heart of the project - it was once a major port, home to the world's first passenger railway and a hive of industries from engineering and iron-making to brick and sail-making. Its history as a market town stretches even further back more than 700 years. In total, 30,000 sqm of public realm has been improved, with a new central focal point created which includes a water fountain, tree planting and intelligent LED lighting, providing a welcoming space for people to enjoy themselves socially.
A Business Improvement District was formed in 2016 by local businesses and continues to be community focussed.
The effort and investment soon started to pay off and in 2016 the high street design, devised by the in-house team, was recognised at the National Urban Design Awards where the scheme won the Public Sector category.
In 2016, Stockton won the Great British High Street 'Rising Star' award, and two years later gained the Great British Market Award for best large outdoor market.
More recently, Stockton was one of only two case studies to feature in the prestigious Grimsey Review.
The real test, though, is what the people of Stockton make of it – and here the results are encouraging. In an Ipsos MORI survey four years after launch, 83% of respondents said they liked the town centre compared to just 69% in 2011.
The experts have recognised the courage and far-sightedness of the project. Stockton could have gone into 'terminal decline', one leading retail analyst concluded. But it benefited from 'a proactive local council that has invested in transforming the town centre, rather than moaning about it, and has then made sure that the beautiful environment it has created is properly maintained'.
This feature first appeared in Local Government News magazine.
Are you creating best practice in street design and regeneration schemes? Our 2020 Street Design Awards will soon be open for entries, email l.sharman@hgluk.com to register your interest.