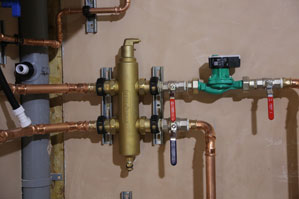 Spirotech's combined deaerator and dirt separator Spirocross was the water conditioning system of choice for a landmark centre opened by a Midlands charity on the regenerated site of a former public swimming baths.
St Clair Gardens is a purpose-built multi-million pounds residential recovery centre developed for Coventry & Warwickshire Mind on land previously home to Livingstone Street baths.
Staffed 24-hours a day, it offers 14 beds and nursing and recovery support for adults with multiple and complex mental health needs.
To provide flexibility the centre's heating system was divided into four separate zones, each fitted with a Vaillant ecoTEC plus 45kw boiler. The system was installed by D & B Heating and Plumbing Services, which specified the SpiroCross low loss header.
D & B (Project Manager) Michael Hurne said: "We like the SpiroCross because it's brass, of superior build quality and reliable. We use it on all of our bigger sites and have never had a problem."
The SpiroCross is a three-functions-in-one component with four connections instead of eight.
Providing active deaeration and dirt separation, it also delivers optimum hydraulic balance between primary and secondary pumps.
Michael, who swam at the former baths in his boyhood, added: "The SpiroCross uses a limited amount of space. Having everything in one unit saves on costs and installation time is quicker, which is another saving.
"It also reduces the amount of pipework needed and provides a neater finish for the client."
Dave Goodyer, Area Sales Manager for Spirotech, said: "It's well accepted in the heating industry that air in a heating system is a major problem, and if not addressed will lead to dirt and corrosion build-up and an inefficient system. "The appeal of the SpiroCross is that it offers 3-in-1 capability from a compact design while still achieving hydraulic balancing and removal of dirt and air all in one unit."
For more information on the Spirotech range, visit www.spirotech.co.uk or Tel: 0208 451 3344.