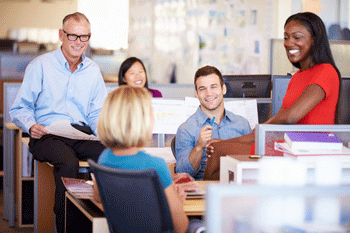 Working with unified comms is no longer a decision for the CIO, it is a strategic decision that affects how the whole organisation works. Unified comms can enable document sharing, web, video, recording of meetings and it means that working from home is no longer second best.
Using technology enables council employees to identify in real-time who is available to collaborate and share information. Making more employees more accessible in more ways makes their communications more efficient and effective across the board and makes processes generally speedier and more likely to come to a timely resolution.
Team collaboration is improved through team conferencing and live communications. Organisations don't have to wait until everyone is in the same room at the same time – logging in from remote sites means meetings can be held at short notice in real time and issues dealt with as quickly as possible. Telephony, instant messaging and session initiation protocol (SIP) phones means the right person can be found faster.
There's a knock-on benefit for service users in terms of key service areas benefiting from contact centre integration, data sharing and integration of directory services, which all mean a service user's enquiry can be answered promptly, channelled correctly and dealt with speedily.
This is already working in practice: the City of Edinburgh Council, as part of its Smart City project and ran a pilot scheme with BT to identify which departments would benefit most from UCC. Edinburgh Council's environmental wardens were given a personal digital assistant (PDA), delivering secure access to corporate email (via GPRS) that enabled them to stay in contact with team managers effectively whilst out in the field. Social workers in the Rapid Response department were provided with tablet PCs which enabled them to gather information electronically and communicate wirelessly with the office and other departments. UCC also eliminated the need for unnecessary and time-consuming journeys back to the office.
The City of Edinburgh Council identified many benefits; the increased accuracy and timeliness of data capture helped identify many potential process improvements. Improved job satisfaction, increased professionalism and enhanced flexible working practices were noted, as were environmental wardens who saved four hours a week and achieved substantial savings in paper costs alone. The rapid response team made a ten per cent time saving per week and improved data quality through use of the tablet PCs.
The sharing ethos that will change the public sector through technology in the future is not simply about sharing data or resources across councils, it's about sharing within the organisation itself – making yourself accessible and open to facilitate communication and collaboration, and as a result, get the job done faster.
Michael White, Partnership Director, BT Global Services, Health, Local & Devolved Government