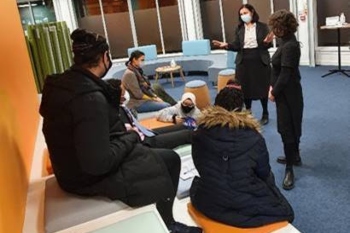 Southwark Council is calling on the Government to fund a network of early mental hubs for young people across the country.
It is the first council to officially back the Fund the Hubs campaign, which has been launched by a coalition of mental health and children's charities.
The hubs would provide young people with mental health support when their problems first emerge, before they hit crisis point.
The council launched its free drop-in mental wellbeing advice and support hub in 2020 after a review found a gap for those who needed extra support but did not meet the criteria for more specialist services.
Cllr Jasmine Ali, the council's deputy leader and cabinet member for children, young people & education, said: 'We are backing Fund The Hubs because we have first-hand experience of the difference early support hubs make to a young person's mental health and emotional wellbeing.
'Children and young people continue to bear the brunt of the pandemic's devastating impact on mental health. They deserve to get support as soon as they need it, on demand, without a referral or long wait. We have accepted nothing less for those in our borough.'
Its hub - The Nest - has delivered over 1,700 hours of support since launching in 2020. Last year, the council approved £200,000 funding to take the mental health service into schools to deliver support directly to students, their families and teachers.
Photo: Cllr Ali with Coin Street Young Leaders who helped co-design The Nest