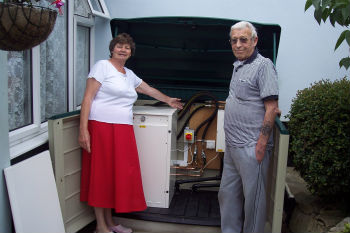 Social housing providers are failing to install ground source heat pumps even though they 'consistently out-perform' air source models, according to Calorex Heat Pumps.
The manufacturer said the payback on ground source systems was up to two-thirds better than air source heat pump solutions. Ground source heat pumps offer a domestic tariff of 18.8 pence per kWh of renewable heat produced, compared to air source heat pumps which offer a 7.3 pence per kWh equivalent.
Tony Sweet, UK sales manager for Calorex Heat Pumps, said: 'Ground source heat pumps are an unbeatable asset for social housing; offering low cost heating all year round with energy bills reduced by up to 60% and carbon emissions lowered by up to two thirds.
'Sadly, too many social housing providers are opting for a quick fix of air source heat pumps which pale in comparison to ground source systems.
'This means that literally hundreds of thousands of low income UK households are missing out on up to 66% of cost savings.'