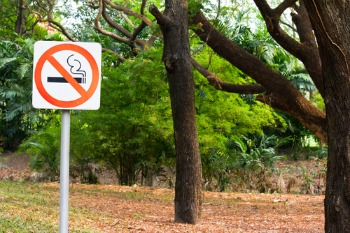 The number of adult smokers fell by 2.2% in the first half of this year, according to the latest figures.
They show that smoking rates in England are dropping at the fastest rate in more than a decade, with around 200 giving it up every hour.
But Public Health England says that because millions still smoke they have brought back 'Stoptober' to help encourage people to quit.
It will offer online support, a personal quit plan and the chance to take part in Stoptober online communities.
Yvonne Doyle, director for health protection and medical director at PHE, said: 'It's really encouraging to see these early signs of such a fast drop in smokers, but we've still got a way to go to achieve our ambition of a smoke-free society.
'That's why Stoptober is back and we are encouraging all smokers to take part.
'Giving up smoking is the best thing a smoker can do for their health and it can also help save money – in just 28 days smokers will start to notice so many benefits.'