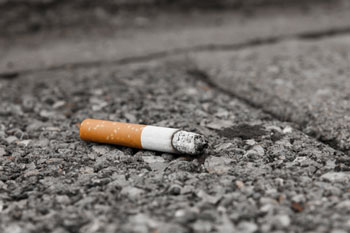 A council in West Yorkshire is set to become the first in England to offer littering smokers the chance to take up cessation sessions rather than pay a fine.
Calderdale Council's cabinet is expected to give the move the green light today.
Smokers caught dropping a cigarette butt currently face an £80 fine. If the scheme goes ahead, council staff will give them the alternative of getting help from their local NHS Stop Smoking Service instead.
Offenders will be expected to attend sessions at least once a week for four weeks. 'This is a really innovative scheme which is giving people other opportunities to help and encourage them to stop smoking,' said Councillor Janet Battye, chair of the Calderdale Health and Wellbeing Board.
'We know that we have an above average number of smokers in Calderdale and that this causes health problems both to the smokers themselves but also to their friends and families.'
Dean Wallace, Calderdale Council's Consultant in Public Health said: 'The responsibility for public health moved into the council last year, which means that we can work much more closely with other council services, such as our environmental health team, to have a positive impact on the health of local people.
'We're keen to support smokers who want to stop and this scheme gives them an extra incentive to quit.'