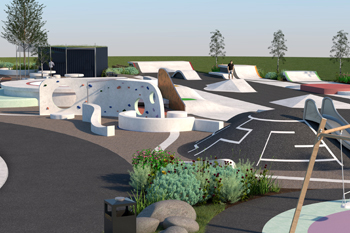 Skateboarding is a great sport – it's creative, has low barriers to entry and with a bit of practice you can do it anywhere. Riders gain strength and flexibility, and learn to take risks. But looking at parks and public spaces, you'd think it was one of the only things that teenagers wanted to do – and this is where the problem lies.
When councils are thinking about facilities for teenagers, a skate park is often the top of the list, along with a MUGA. But that's the adult's point of view – as far as teenagers are concerned it's a minority interest. Just under 8% of teenagers skateboard, and when they're asked what they want, swings and social seating tend to come much higher up the list.
There's a bigger issue too – skateparks are dominated by boys. Less than 3% of girls skateboard, and they often feel unwelcome. Make Space for Girls has surveyed girls who skateboard, and nearly 70% said that some boys made them feel that they shouldn't be there.
We've heard stories from girls across the country who want to skateboard but find skateparks uncomfortable places to be, whether that's from being the only girl there, being told they are rubbish skateboarders, or posers, having stones and racial insults thrown at them and being sexually harassed. Girls skate early in the morning, or they choose indoor skate parks where the presence of adults and girls-only sessions means that they feel safe and supported.
All of which means that the traditional skate park has a problem. With its users so skewed towards boys, and girls excluded, can councils really call this good provision for all teenagers?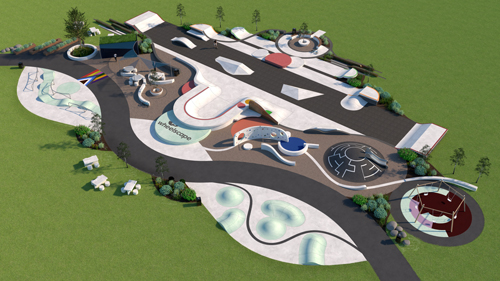 So what's the solution? We've got two suggestions. Firstly, councils shouldn't assume that a skate park is the answer. Talk to your local teenagers – all of them, not just the ones who already use the park – and find out what more of them would use. Quite often the suggestions they come up with, from seating and shelters to swings and hammocks, will fit a tightly constrained budget better than a skatepark might.
The second is that if you are going to build a skate park, make it work for girls. Often the design of skate parks – a single bowl with bad lighting in a dark corner – can exclude girls from the space before they've even started. A more inclusive design will attract more users across the board – and from different groups. By creating a space for rollerskaters, scooters and BMX bikes, as well as skateboarders, and which works for every age group, the park caters for more than just a minority.
But what would this look like? Make Space for Girls have been working with designer Elliot Hamilton from Wheelscape to design a skatepark which works for everyone. Based on research from Europe, and the input of girl skateboarders from the UK, the design has architecture and colour to make it feel welcoming, space for all abilities, including beginners, a café and seating, and room for every kind of wheeled sports.
So on Go Skateboarding Day, we're asking councils to think twice about how they provide for teenagers. It's great that people do want to go skateboarding, but we need to make sure that it's not the only sport – and most importantly that everyone is invited along for the ride.
Susannah Walker is from the charity Make Space for Girls
Make Space for Girls have created a leaflet for councils about skateboarding, which covers the issues and solutions, which is available on their website: https://makespaceforgirls.co.uk/wp-content/uploads/2022/05/MSFG_Girls-and-Skate- Parks.pdf