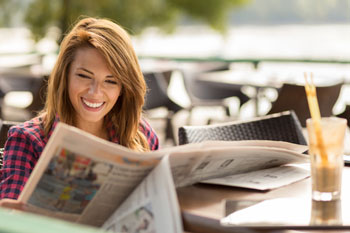 The Ministry of Housing, Local Government and Communities is being typically tight-lipped, but it looks as though the long-standing clampdown on councils issuing their own newspapers may be coming to an end.
The News Media Association, representing traditional local newspapers, is certainly worried that may be the case.
It says the council free sheets are nothing but propaganda which undermine commercial news operations and present a glossy view of their local councils compared to the critical, independent approach taken by local newspapers.
The row goes back to 2010 when the then local government minister Eric Pickles lambasted 'Town Hall Pravdas' and ushered in new regulations saying they could not be published more than four times a year.
But a couple of London councils, Waltham Forest and Hackney, stood out against the clampdown and have continued to publish their own fortnightly newspapers.
It looks as though the current communities secretary Sajid Javid has decided the seemingly endless battle over local publications going through residents' letterboxes in two London boroughs wasn't worth pursuing given everything else that is going on.
But that means, critics worry, that many councils which complied with the regulations and shut down their local freesheets will now feel emboldened to start up them up again.
Would that be such a bad thing?
Waltham Forest Council staunchly defends its right to publish its own free paper. 'Waltham Forest News', a full-colour publication usually of around 28 pages, about half of which contain news stories about local council activities and community services, while the rest are filled with statutory notices and in-house advertising.
The council says it saves about £100,000 a year by publishing the statutory notices - planning applications, legal announcement and the like - this way rather than in local newspapers. What's more, it means all 300,000 residents get the chance to see them, compared to a far smaller circulation boasted by the local paid-for Waltham Forest Guardian, one of a series of local papers produced by the Newsquest Media Group.
And the council says that despite its best efforts, the Government has been unable to offer any evidence of political bias in the council-produced paper.
That, of course, is debatable. A glance at the latest issue reveals a string of good news stories, with smiling residents engaged in constructive activities courtesy of their local council. A column looking very much like a traditional newspaper editorial is signed by the council leader.
The commercially-produced Waltham Forest Guardian, on the other hand, has the usual mix of local crime, protests and rows, including some reflecting criticism of the council.
The two approaches are very different - but then there is no reason why they shouldn't be.
A council newspaper is not the same as a traditional newspaper - in fact, it can be argued, it is not a newspaper at all but a vehicle for council publicity and useful information for residents.
Local newspapers are under huge financial pressure and most are declining in circulation and advertising income. They do not like the fact that some councils, like Waltham Forest, use their own publications to save them having to hand over cash to a commercial newspaper.
Waltham Forest Council argues there is no evidence that not paying the local paper to publish its notices is the reason they are declining - they say proprietors are cutting jobs and coverage in order to save money and that is the cause of the decline.
The Government's pause on enforcing its regulations means the argument will continue for the time being.
Waltham Forest and Hackney councils have been given breathing space, while the journalists at their local newspapers will be keeping a keen eye on the Government's next move and will continue to ask why, as they see it, they are being undermined by their local councils.
But as commercial operations, they will no doubt be looking for ways to increase their circulation and income, whether in competition with their local 'town hall Pravda' or not.