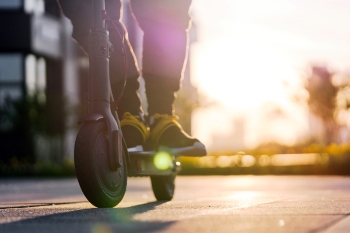 Transport secretary Grant Shapps has confirmed he will make an announcement about the legalisation surrounding e-scooters in next month's Queen's Speech.
He told the Commons Transport Select Committee: 'We will take powers to properly regulate and then be able to decide the usage of them.'
'This is a welcome announcement from the Transport Secretary and we look forward to seeing the details of what is proposed,' said Richard Dilks, chief executive of Collaborative Mobility UK (CoMoUK).
'E-scooter trials have proven to be highly popular, with over 15million rides since summer 2020, and we must ensure the UK does not miss out on this opportunity to lower transport emissions.
'There is an imperative to improve safety because our laws currently do not define and recognise e-scooters, and we need standards for aspects such as their top speed, braking and lighting.'
This week, nine organisations came together to urge the UK Government to bring forward legislation that would create a new powered light vehicle class. The move is designed to ensure e-scooters, whether rented in shared use schemes or privately owned, are subject to high safety standards.
This article was originally published by LAPV.