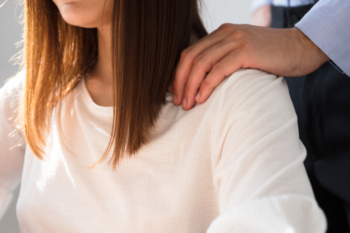 It's not only glamorous young women who suffer sexual harassment at work, a union boss said recently. Not just actors and models, the cheerleaders of the 'Me Too' movement. 'It's also the cleaner, school secretary, healthcare assistant, call centre worker or finance officer', Christina McAnea told the Unison conference in Bournemouth.
The problem goes back a long way, long before famous film stars started speaking out against the likes of Harvey Weinstein.
But if debates at the Unison conference are anything to go by, there has been little progress since it all blew up two years ago.
One motion says the Me Too campaign has 'started a debate about unwanted sexual conduct and has empowered women to come forward'. But there's little evidence, on the face of it, of empowerment or of women 'coming forward'.
A TUC study three years ago found that 52% of women had experienced unwanted behaviour at work and research by the BBC showed much of the harassment came from third parties including clients and customers. A study carried out by the Local Government Information Unit and the Fawcett Society found evidence of systematic discrimination against women and made a number of recommendations for action – but was focused on councillors rather than the workforce.
The Unison motion demanded the reinstatement of a section of the 2010 Equality Act providing for a 'three strikes and you're out' regulations meaning if an employer would be held liable if they ignored continuing harassment after more than two episodes. Otherwise there was much talk of providing toolkits, carrying out research, supporting campaigns, liaising with various bodies and creating template policies.
Which leads to an important question: if there is such a problem of harassment in the local government workplace, why are there apparently so little action going on to get rid of it? Why so little evidence of cases being brought before the courts to provide justice for women – and some men – who are being abused by their bosses or fellow workers?
There are two possible explanations. One is that it is all overdone and there is in fact very little harassment going on. Managers are well behaved and staff respect one another. There are few complaints because there is not much to complain about.
The other explanation seems more likely: that despite all the encouragement to 'come forward' and the general feeling of revulsion over the well-publicised cases of appalling treatment meted out to celebrities by their rich and powerful bosses, most women are still too frightened to speak up.
The real answer is hidden away in the Unison motion: we must ensure, it says, that our activists and branch officers are equipped to support women who wish to report sexual harassment at work. Only when women are made to feel confident enough to speak out without fear of losing their jobs or promotion – or an increase in the harassment they are already suffering – will they begin to do so.
It is often said that sexual harassment is not really about sex, but power. It takes place when powerful men – usually men – feel able to bully and harass those in less powerful positions. Consequently it is only when that power relationship is open to challenge that the abuses can be confronted.
Left to themselves most staff at all levels are reluctant to raise their heads over the parapet when they see wrongdoing taking place, or experience it themselves. They have their jobs and careers, and very often their families, to consider.
Good employers understand this and encourage their staff to question and challenge because they know that 'people are our most important assets' is not just a hollow catchphrase and that scrutiny creates positive outcomes.
Conference motions can only go so far. Like the law, they can't impose behaviour. But they can at least be a signpost towards what is needed to make the world a better place. Hopefully senior managers in local authorities will have noted what Unison said and checked to make sure they have helped create a culture in which women and all employees – including the cleaners, school secretaries and healthcare assistants – feel able to call out bad behaviour when it happens.