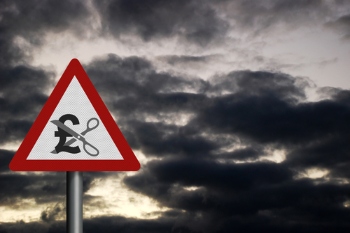 West Dunbartonshire Council leader Martin Rooney has warned of impending public service cuts due to the local authority's £14m budget gap.
Cllr Rooney has written to deputy first minister John Swinney, who is standing in as Finance Secretary for Kate Forbes, who is on maternity leave, and warned that local authorities are struggling to cope with the cost of living crisis and the increased demand on resources.
The projected £14m shortfall in West Dunbartonshire factors in the increasing costs facing the council for fuel, utilities, pay and materials and also takes into account the Scottish government's 'flat cash' settlement to cover the 2022-26 period.
The Scottish government provides around 85% of the council's funding and Cllr Rooney warns that West Dunbartonshire and other local authorities are facing the prospect of cuts to vital public services unless more money is made available.
Cllr Rooney said: 'West Dunbartonshire Council needs additional financial assistance from the Scottish Government with closing the £14m budget gap in 23/24 and with funding fair pay for all of our local government staff.
'Without the Scottish government's financial support, local residents will be faced with the prospect of the loss of public services. In addition, there is the real possibility of industrial action impacting on communities over the coming months affecting services such as waste collection, early years and schools as trade unions fight for fair pay for council workforces across Scotland.
'Council services are vital to our communities and provide a lifeline for the most vulnerable, and we need investment to ensure they are protected now and for the future.'