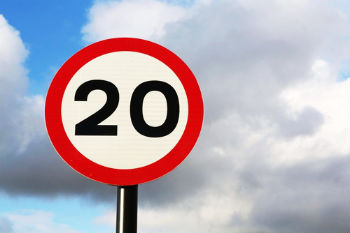 An evaluation of Edinburgh council's roll-out of 20mph speed limits across the city has concluded that the programme's objectives have been 'broadly met' and recommends further roll-out.
Evaluation of the 20mph Speed Limit Roll Out, to be considered by members of the Transport and Environment Committee on Friday, assesses the impact of 20mph on speeds, road traffic collisions and public attitudes.
It found there had been a 'significant reduction' in speeds across the 66 sites surveyed, with speeds dropping by 1.34mph on average, and by up to 2.41mph in some areas.
Research has shown that for every 1mph reduction in speed there is a 6% reduction in accidents.
Support for the scheme has also grown since its implementation, the council's evaluation found.
More than 1,200 household surveys carried out before and after revealed that 65% of respondents are now in support, with 24% strongly supporting it, compared to 58% and 20% before the roll-out.
'These initial results demonstrate that by leading the way to become Scotland's first 20mph city we are having a real impact on the safety and wellbeing of people in Edinburgh,' said transport and environment convener Cllr Lesley Macinnes.
'Our vision is for a safe, sustainable and active transport future in Edinburgh, and calmer speeds are key to this,' she continued.
'More relaxed streets will encourage cycling and walking, reducing the risk of road traffic accidents and improving the quality of life for all road users.'