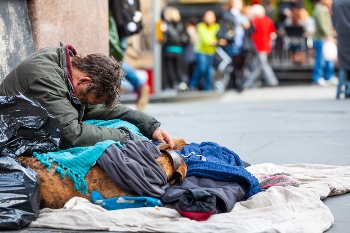 Scotland has over twice the number of homelessness deaths than England, 'experimental statistics' reveal.
Figures from the National Records of Scotland indicate that there were an estimated 195 deaths of people experiencing homelessness registered in Scotland in 2018 - an increase of 19% on the estimate of 164 in 2017.
Scotland had the highest rate of homeless deaths of all of the countries in Great Britain in 2018 with a rate of 35.9 per million population compared to 16.8 in England and 14.5 in Wales.
In 2018 Glasgow City (100.5) and Aberdeen City (67.8) had the highest homeless death rates per million population.
More than half of homeless deaths in 2018 were drug-related (53%) and around three quarters of homeless deaths were males, the figures reveal.
Paul Lowe, the chief executive of National Records of Scotland and registrar general for Scotland, emphasised that these figures were based on 'experimental statistics'.
'NRS has developed a method of estimating the incidence of homeless deaths in response to user demand,' he said.
'It is important to stress that these are experimental statistics and we will continue to work with users and stakeholders to assess their suitability and quality, as we continue to develop our methodology in future years.'
Image: SergeBertasiusPhotography/Shutterstock.com.