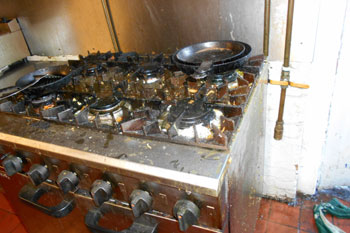 Displaying food hygiene ratings must be made mandatory for all restaurants and cafes in England after Brexit, council chiefs say.
Council environmental health teams score food outlets from zero to five based on factors such as kitchen cleanliness, cooking methods and food management.
In Northern Ireland and Wales it is mandatory for all premises serving food to display these 'scores on the doors'. However, English businesses are not required to do this providing those with poor health standards the opportunity to not display bad ratings.
According to a survey carried out for the Food Standards Agency (FSA) in 2012, just 43% of restaurants and other food businesses in England put up a score, and only 32% in London. For businesses with a low rating - between 0 and 2 - the figure dropped to 12% across England and 9% in London.
The Local Government Association (LGA) is urging ministers to make it mandatory for all food outlets to display their hygiene scores where customers can see them.
They also called for ministers to ensure that EU legislation governing food safety is retained once the UK has left the union.
'The post-Brexit review of EU laws gives the Government choices. We believe that food hygiene laws need to be strengthened, where necessary, with 'Scores on the Doors' ratings being a good area of opportunity to do this,' said Cllr Simon Blackburn, chair of the LGA's safer and stronger communities board.
'Making the display of hygiene ratings compulsory in England is good for business. Not only would it incentivise food outlets to improve or maintain high hygiene standards - which would reduce the risk of illness for customers - it would also improve consumer confidence and save taxpayers' money by reducing the need for, and cost of, enforcement action by councils.'