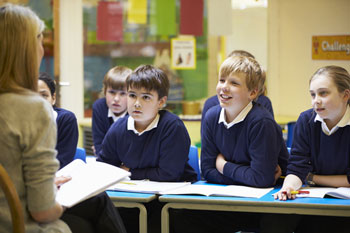 School leaders are preparing for the possibility that exams and assessments might be disrupted next year as a result of Omicron.
Paul Whiteman, general secretary of school leaders' union NAHT, has warned that the absence rate caused by the new variant of COVID-19 could put GCSEs and A-Levels at risk next year.
The Government has already asked former teachers who have the skills and time to return to the classroom to sign up in anticipation of staff shortages.
Mr Whiteman warned that 'a different type of provision' might be needed at the beginning of next year.
'With soaring COVID-related absence rates this term, schools are aware that education could look very different in January and we could be talking about a very different type of provision at the start of next year,' he said.
'That has huge implications for things like exams and assessment. School leaders will therefore be making contingency plans in case the situation gets worse.'
Julie McCulloch, director of policy at the Association of School and College Leaders (ASCL) said that the association hoped that exams will not be cancelled but warned that 'no one can guarantee this.'
However, she also reassured students that contingency plans were already in place if exams did need to be cancelled.
'Schools and colleges have been asked to gather robust evidence of students' performance which could be used as a basis to determine teacher-assessed grades if this proves necessary,' she said.
'Exams are also being adapted in a number of ways to take account of the impact and disruption of COVID-19. This includes the provision of advance information about the content of some exams to allow students to focus their studies. The exam boards are due to publish this advance information by 7 February.'
Ms McCulloch added: 'It is important that the Government gives absolute clarity on plans for exams to students who will already be feeling unsettled by the huge disruption they have experienced over the past 20 months and for whom the continuing speculation over whether exams will take place is not helpful.
'The plans in place are designed to ensure that they are assessed for these qualifications as fairly as possible whatever happens over the next few weeks and months.'