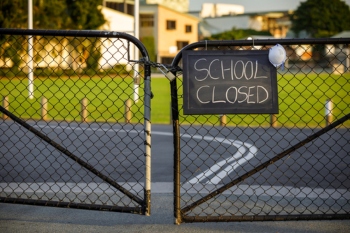 The long-run cost of lost schooling could be as much as £350bn, a new study from the Institute for Fiscal Studies (IFS) has warned.
The research highlights that by February half-term, children will have lost at least six months of normal schooling. It predicts that in the long-run this will lead to lost earnings worth £350bn.
IFS warns children from lower-income families are likely to suffer the most from long-term effects, resulting in further educational inequality.
It is calling for a 'massive injection' of resources to help pupils properly catch up, as the £1.5bn already allocated won't be enough.
Luke Sibieta, research fellow at the IFS, said: 'A loss of over half a year of normal schooling is likely to have far-reaching long-run consequences. We will all be less productive, poorer, have less money to spend on public services, more unequal and we may be less happy and healthy as a result.
'Standard evidence on the returns to schooling would imply a total loss of £350bn, or £90bn under incredibly optimistic assumptions. The inescapable conclusion is that lost learning represents a gigantic long-term risk for future prosperity, the public finances, the future path of inequality and well-being.
'We therefore need a policy response that is appropriate to the scale of the problem. One useful benchmark is the £30bn it normally costs for half a year of schooling in the UK.'