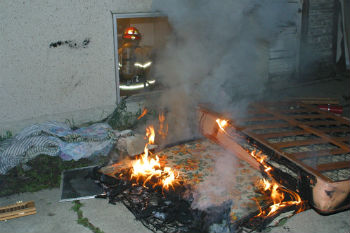 There has been an increase in complaints about cheap, 'fireball' mattresses being sold online or from the back of a van, councils say.
The Local Government Association (LGA) has warned against purchasing these 'van scam' mattresses because they pose a serious fire risk and are often unhygienic.
They are frequently old, discarded mattresses that have been repackaged with genuine brand names, and often have fake fire-resistant labels.
Sellers offer them at dramatically discounted rates and argue they are discounted stock or a local hotel ordered too many.
'These unscrupulous traders have no interest in the safety of the products they sell and some have now taken to selling mattresses which could create a fireball in people's homes if they catch light,' said Cllr Simon Blackburn, chair of the LGA's safer and stronger communities board.
'These fly-by-night sellers don't care about the risks these mattresses pose, they just want to make a quick buck and leave you with phoney details so they can't be traced.
'Some councils have reported a recent surge in mattress scam complaints but many victims won't realise they have been conned and could be sleeping on a potential death trap.'