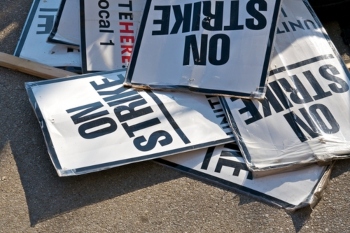 Refuse workers in Sandwell MBC have called off a planned strike due to start next week after accepting a 9% pay increase and securing additional annual leave.
Serco made the improved offer after Unite, GMB and Unison members supported strike action through late July and into August. The offer includes an additional five days leave for many of the workers to 'harmonise' terms and conditions across the workforce.
Unite general secretary Sharon Graham said: 'This is an important pay victory for our members employed by Serco in Sandwell, who by showing solidarity have ensured that their employer has made an improved pay offer. Unite is now wholly dedicated to enhancing and defending the jobs, pay and conditions of its members. This approach is paying off and Unite is continually securing improved terms and conditions for its members.'
It is the latest in a series of significant local pay deals negotiated after the unions conducted ballots at branch level – and for individual services.
The National Joint Council is due to resume talks on the 2022/23 national pay agreement on Monday.
As The MJ reported this week, the Local Government Association has been warning members about both legal risks and the possibility of undermining the national talks by reaching local pay deals.