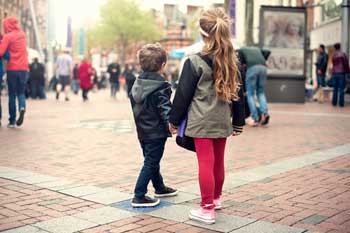 A new 'child safe zone' has been launched in Glasgow to protect children who get lost in the city centre.
Posters will be displayed around the city with the council's community services helpline number and wristbands are being made available so that parents can ensure their child has a mobile number for officials to call.
Councillor Gordon Matheson, leader of Glasgow City Council, said: 'A huge number of people visit Glasgow city centre every week and we're proud of our reputation as a safe and secure place to visit; it's very important to us that people continue to enjoy their visits to the city centre.
'In reality, few children do become separated from their guardians, but if the worst should happen, this scheme means that we can reunite lost children very quickly with their parent or guardian, minimising the upset for everyone.'
Anne Ledgerwood, chair of Glasgow City Centre Retail Association, said: 'We are delighted to be involved in the child safe zone. The city centre is a vibrant and safe place to shop and visit. We hope that this initiative will encourage even more families to enjoy all that the city centre has to offer.'