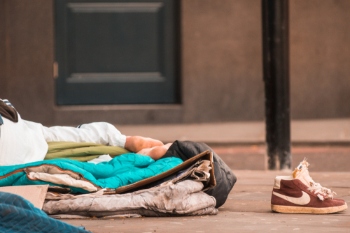 A housing charity has called for a 'roadmap out of homelessness' as Government figures released today reveal that the number of people sleeping rough has decreased by 9%.
Around 2,440 people were estimated to be sleeping rough on a given night in autumn 2021, according to the Government's data.
This represents a 9% drop in the rough sleeping numbers compared to last year and marks the lowest level in eight years.
However, despite the decrease in the amount of people sleeping rough, the number of people on the streets is still 38% higher than in 2010 when the data started being collected
The Government figures also reveal that 4,880 people were being accommodated in emergency accommodation as of December 2021.
In 2021, the local council areas in England with the highest numbers of people sleeping rough were Westminster, Camden, and Bristol.
'These figures show the race to end rough sleeping has started but it's far from over. The extra provision of emergency accommodation was working last autumn to put a roof over people's heads,' said Osama Bhutta, director of campaigns at the homelessness charity Shelter.
'We're now at a fork in the road. There is a real danger that more people will be faced with the streets as the cost of living crisis rages, as well as a roundabout of repeat rough sleeping. We see it in our services and councils are reporting it too – the biggest barrier to keeping people permanently off the streets is the lack of suitable, long-term homes.'
He continued: 'The Government pledged to end rough sleeping by 2024, it cannot possibly achieve this goal without a proper plan to tackle the root causes. We need a roadmap out of homelessness – one that begins with making sure everyone at risk of the streets is given a safe place to stay, and ends with the building of truly affordable social homes.'