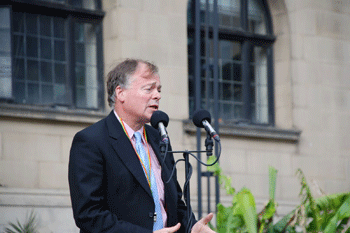 Right to Buy (RTB) discounts for housing association tenants should be funded by central Government rather than through a 'levy' on local authorities, according to a local government committee.
The Communities & Local Government (CLG) Committee has criticised government proposals to fund RTB discounts with the proceeds from the sale of high value council homes. They argue this constitutes a 'levy' on councils.
In its report investigating RTB, the select committee also questions the 'robustness of the funding model' and calls on the Government to set out the fully costed evidence for the proposals.
The committee also calls on the Government to protect the provision of affordable housing in rural areas.
The terms of the housing associations' voluntary agreement with the Government allow for portable discounts to be offered in place of certain properties. The committee welcomes this but says it remains unclear how it will operate.
The committee expressed concern that the government's imposition of a one percent rent cut for four years will damage the ability of housing associations to build new homes by reducing their incomes. They argue it could also have a negative impact on pastoral services.
The committee's report outlines recommendations designed to restrict homes sold through RTB ending up in the private rented sector, and calls on the Government to give housing associations the freedom to set the rents for their tenants.
While welcoming the voluntary nature of the proposed 'pay to stay' policy, where differential rents would be charged according to tenant income, the committee believes the suggested thresholds should be reviewed and housing associations given local discretion should they choose to adopt the policy.
The committee acknowledges the importance of building homes with affordable rent, but it argues the government's Starter Homes should not be built at the expense of other forms of tenure.
Clive Betts MP, chair of the CLG committee, said: 'The fundamental success of this policy will depend not just on whether more tenants come to own their home but on whether more homes are built.
'As a Committee, we are concerned that there are a number of unresolved issues with the government's policy which could have a detrimental effect on the provision of accessible and affordable housing, particularly affordable rented property.
'The Government needs to set out in more detail how it will meet its target of at least one-for-one replacement of the sold homes, particularly given issues such as the availability of land, the capacity of the building industry and the uncertainty of income from council home sales.'
Terrie Alafat, chief executive of the Chartered Institute of Housing, which gave evidence to the committee's inquiry, said: 'We would urge ministers to consider this report very carefully. Our research shows that almost 7,000 council homes a year could be lost when right to buy is extended to housing associations if no extra funding is provided by central government.
'Such a significant loss of desperately-needed affordable homes would mean more people on lower incomes stuck on council waiting lists all over England – and for generations to come.'