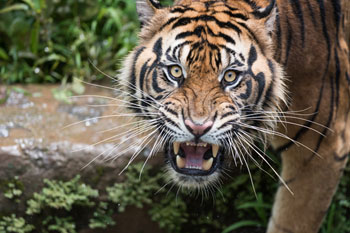 More than 100 councils have issued people with licenses to keep animals such as tigers, lemurs and crocodiles on private property, a new investigation has revealed.
A freedom of information request, conducted by the Press Association, has found wild animals are being kept as pets across the country. Licenses have also been issued for people to keep wild animals for breeding purposes or for caring for animals that have been injured.
The research found that Cannock Chase Council has issued licenses for three tigers and two lions, while wolves, alligators and black widow spiders are being kept in Central Bedfordshire. There are 15 wolves registered in the UK, with 2,000 wild boars living in private fields.
The RSPCA said it was 'deeply concerned' about the number of exotic animals being kept as pets. A spokesperson for the charity said: 'Licences for exotic animals classed as Dangerous Wild Animals - such as cobras ostriches and caiman crocodiles - are granted by local authorities and the details are also held locally. There is no centrally-held list to determine how many are kept across the country.
'The emphasis of this legislation is on making sure the owner takes reasonable steps to prevent the animal from being a threat to the public, rather than the welfare of the animals concerned.
'We are deeply concerned about the number of exotic animals, including dangerous wild animals, now being kept as pets. People may buy them with little idea of how difficult they can be to keep and the animals are sometimes neglected when the novelty wears off and the commitment hits home.'