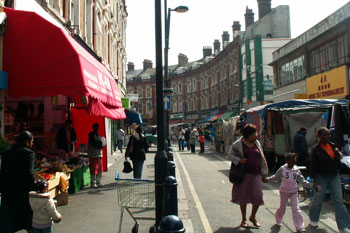 The government must help Black, Asian and minority ethnic (BAME) organisations take over community buildings to ensure future generations benefit from them argues a new report by Ubele Initiative and Locality.
The urban uprisings in the 1980s in areas such as Brixton (pictured), Tottenham and Bristol led to the emergence of many community organisations and spaces being leased to diaspora communities.
Over the last five to ten years, however, the groups claim local authorities have failed to renew many of the leases on these community assets, which has led to BAME groups being forced from the centres where they traditionally meet, work, learn and celebrate.
The report, A Place to Call Home, highlights the vulnerability of these neighbourhood centres. According to data from a total of 150 organisations across England, 54% of respondents said the future of their community buildings was 'insecure'.
Locality chief executive, Tony Armstrong, stresses that while the report reveals some inspirational stories of community leadership, it also 'underlines the uncertain future of community buildings primarily used by BAME groups and stresses the struggles and losses that many have faced in recent years'.
'The Government needs to act', he continues, 'to ensure BAME groups are supported, take on and retain the important community assets which mean they can make a difference to the people in their neighbourhoods.'