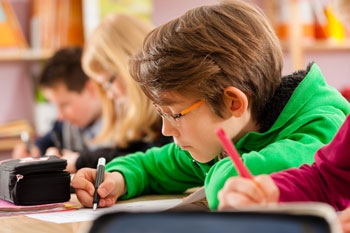 A new report has called for a £300m increase in Government funding for disadvantaged areas across the North to ensure every child is school ready by the age of five.
The Northern Powerhouse Partnership (NPP) has published a report warning of the education and skills gap in the North and calling on more Whitehall investment to help worse-off families.
Entitled Educating the North: driving ambition across the Powerhouse, the report warns disadvantaged Northern schoolchildren are falling one GCSE grade on average behind the rest of the UK.
This impacts their future development and leaves them behind the rest of the UK when they leave school, it says.
The report also calls on employers in the Northern Powerhouse to play a far greater role in offering mentoring and meaningfully reaching out to children and young people.
It says that if companies of all sizes worked with the same number of young people as they have Northern employees, there would be at least 900,000 young people receiving experience of the world of work.
This would help the Northern Powerhouse train, retain and upskill its own workforce, the report says.
Educating the North estimates creating a skilled workforce, coupled with increased Government investment, would allow 850,000 extra jobs to be created and generate an additional £100bn for the UK economy by 2050.
'For the Northern Powerhouse to succeed and deliver a North that pulls its weight in economic terms the first things we have to sort out are education and skills,' said Lord Jim O'Neill, NPP vice-chair.
'Sorting out schools in the Northern Powerhouse should be at the top of the new Education Secretary's in-tray, and we will be working closely with government to implement our recommendations.
'We have seen how everyone involved in delivering education in London came together to turn their schools around from some of the worst in the country to some of the best.
'The same can happen in the North, creating an education system capable of delivering a skilled workforce in the North, for the North.'
Edna Robinson, newly appointed chairman of the People's Powerhouse movement, welcomed the publication of the report and said the solutions to the problems it identifies will need to 'address needs at home as well as look for solutions in education and the workplace.'
'What is happening in education and at work is never the whole story,' she said.
'There are huge gaps in support at home that also need to be addressed if we are to meet the life aspirations of more people in the North of England. And the report shows that if anything problems are getting worse and more entrenched.
'It's crucial we look to widen the responsibility for education solutions beyond schools and business.'