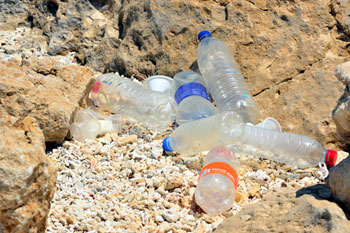 Environment secretary Michael Gove today announced a new deposit return scheme to increase recycling rates and reduce waste.
The Department for Environment, Food & Rural Affairs (Defra) has confirmed there will be a deposit return scheme in England for single use drinks containers in order to increase recycling rates.
The UK uses an estimated 13 billion plastic drinks bottles a year, three billion of which are incinerated, sent to landfill, or become litter.
There are over 150 million tonnes of plastic in the oceans and every year one million birds and over 100,000 sea mammals die from eating and getting tangled in plastic waste, according to Defra.
Subject to consultation later this year, the scheme will see consumers pay an up-front deposit when they buy a drink which is redeemed on return of the empty container.
This can be done through a 'reverse vending machine' where the consumer inserts the drinks container — which may be plastic, metal or glass — and the machine issues the money.
'We can be in no doubt that plastic is wreaking havoc on our marine environment — killing dolphins, choking turtles and degrading our most precious habitats,' said Mr Gove.
'It is absolutely vital we act now to tackle this threat and curb the millions of plastic bottles a day that go unrecycled.
'We have already banned harmful microbeads and cut plastic bag use, and now we want to take action on plastic bottles to help clean up our oceans.'
Responding to the Government's proposals, Cllr Martin Tett, Local Government Association (LGA) environment spokesman, said: 'This is a hugely positive step by the Government and has the potential to revolutionise how we recycle.
'It is particularly encouraging that the Government has recognised the LGA's previous calls and the responsibility that producers have in mitigating the impact of plastic on the environment.
'We've long called for industry to get around the table with us to reduce the amount of unrecyclable material in packaging, and prevent it from entering the environment in the first place. We encourage them to take the opportunity of this consultation to do so.
'If these proposals are to be a success, it's essential that they work alongside kerbside recycling and are not seen as an alternative to it. The forthcoming consultation should ensure that these new proposals do not impact on local recycling.'