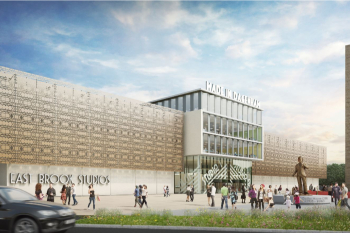 Let me be honest, in this country we are facing the worst housing crisis since the Second World War.
In Barking and Dagenham, we have more than 5,500 people waiting for a council home on our housing register, and since the Right to Buy was launched in 1980 we have lost over 70% of our council housing.
It's simple economics – you just can't sell something for less than it costs you to make.
Despite us building around a 1,000 council homes – and plans to build 50,000 new homes over the next 20 years – the number of private rentals in our borough has increased from around 5% in 2001, to 35% of all properties today. In fact, for the first time in our borough's 53-year history we have more private rented accommodation than social housing.
So, it came as no surprise when Shelter announced that Barking and Dagenham had experienced the largest increase in rents when compared to increases in wages since 2011.
Firstly, we agree with Shelter - the Government needs to do more and take this crisis seriously. The impact of austerity is being seen across the country – especially in the capital. In our borough alone, we've been forced to spend £17.5 million to house people in temporary accommodation in 2016-17.
We have a social responsibility to try and do something to help all our residents and that's why as a council we launched Reside, our wholly-owned housing company, in 2012.
We want to offer rental options for the everyday worker, who may not have access to traditional council housing but can't afford to rent privately.
Reside allows us to offer a true alternative.
It offers people of all professions – whether you earn minimum wage working in retail, driving a bus or teaching in a classroom – the opportunity to have a secure, affordable home with a landlord whose values are rooted in the public sector.
We are able to offer varied rent levels of 50, 65 and 80% of the full market price, meaning we can provide a home for people who would otherwise be priced out of the area. The properties we let at 50% are referred to as 'council comparative rents', because residents are charged the same as they would be in traditional social housing.
I won't lie and say it is easy. Land values in the area are rocketing and we can't change things overnight, but we are getting there, and we now have more than 850 properties making up the Reside portfolio.
As well as trying to find housing solutions in the 21st century, we are also trying to improve employment opportunities and match the aspirations of the people who live here.
Our borough was once famous for Fords but one day it will be famous for films – we recently announced London's newest film studio in Dagenham.
As part of our Digital Dagenham vision, we're moving away from heavy manufacturing into the growth sectors of media and technology, looking at options that will transform a 43-hectare site, which formerly housed a pharmaceutical works.
Combined with the film studios, this will help reposition our borough for the 21st century and offer incredible opportunities for people in the area.
We think everyone should have access to a decent home and we are doing all we can to meet the needs of our residents.
We'd absolutely love to be building more council homes, but unless the Government changes course and faces up to the true scale of this crisis, we are left to find our own path. Unlike the Government, we are ready and we've already shown that we are able.
And if we don't help, who will?
Cllr Darren Rodwell is leader of Barking and Dagenham Council