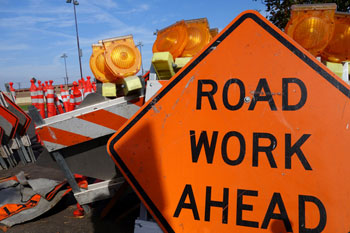 Preparatory works for major improvements to Reading West Station began this week with roadworks on the Oxford Road to make space for a brand new station building.
Reading Borough Council is leading on a £3.3m project to transform Reading West, working in partnership with Great Western Railway and Network Rail.
A new station building on the Oxford Road forms the centerpiece of the improvements, which include new ticket gates at the Tilehurst Road and Oxford Road entrances, new toilets and a retail facility. A new bus interchange and improved cycle parking also form part of the scheme, as do improvements to the Tilehurst Road entrance.
The preparatory works are expected to run for 16 weeks, at which point partners Great Western Railway will take possession of the southern side of the Oxford Road for construction of the new station building. The new station facilities are expected to be open to the public next summer.
'These preparatory works effectively mark the start of construction of the new and much improved station environment at Reading West,' said Tony Page, Reading Borough Council's lead councillor for Strategic Environment, Planning and Transport.
'Local residents and passengers will be all too familiar with the regular instances of anti-social behavior which have blighted the station over very many years. A key element of this project is to tackle those issues through the design and day to day operation of a new station.
'New ticket gates at both the Tilehurst Road and Oxford Road entrances will mean access to the station is limited to paying passengers only, which is not currently the case. New lighting, CCTV, toilets, a retail facility and better waiting areas, will all combine to significantly improve safety and security.'
Cllr Page continued: 'At the planning consultation stage, the Council took into consideration concerns expressed about access into and in front of the station. By marginally moving a bus stop and kerb lines on both sides of the road, the footpath directly in front of the station has been widened. These preparatory works begin next week, alongside physical work to create a new bus interchange to make it easier for commuters to easily swap from bus to train, and additional cycle parking.
'Road users who regularly travel along the Oxford Road are asked to build in extra time for their journeys, particularly through the autumn months when the roads are likely to become busier. We thank local residents for their patience whilst this important project takes shape.'