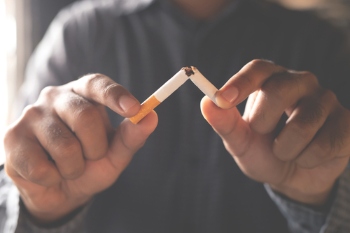 Local authority-run efforts to help people quit smoking have improved during the pandemic but are under threat due to underfunding, charities warn.
Findings from Action on Smoking and Health (ASH) and Cancer Research UK have revealed that in 2021 76% of local authorities were providing some form of dedicated specialist service for smokers, compared to 69% in 2019.
In a national survey of the 150 local authorities with public health responsibilities, the charities found that of the 126 who responded a third (36%) reported that the emergency context had created positive opportunities for services to be delivered differently and reach more people.
However, a further third (34%) reported that the pandemic had compromised their ability to provide support.
The councils most likely to report negative impacts were those delivering their services through NHS partners who were overwhelmed with the frontline pandemic response. Among those delivering through the NHS, 88% reported negative impacts compared to just 25% of councils with a separate dedicated service.
Despite the increase in council-delivered dedicated specialist services for smokers, ASH and Cancer Research UK warn that Government cuts to the Public Health Grant and uncertainty about future public health budgets risk undermining these services.
Malcolm Clark, senior policy manager at Cancer Research UK, said: 'Smoking is a leading cause of health inequalities, so it's great to see local authorities engaging with people who have the highest rates of smoking.
'However, this report also shows the harmful impact of years of funding cuts to public health budgets. To close the inequality gap, everyone who smokes must have access to effective specialist support to help them stop. Increased and sustainable funding for local tobacco control is vital for this to happen.'
Hazel Cheeseman, deputy chief executive of ASH: 'Now more than ever councils see the value in protecting the public's health and the benefit of a local population that is fit and healthy.
'However, funding for services have been cut by a third and is insufficient to cope with the new pressures now looming. A levy on tobacco companies to fund tobacco control is needed or thousands of smokers will fail to get the help they need to quit successfully.'
Responding to the report, Cllr David Fothergill, chairman of the Local Government Association's (LGA) Community Wellbeing Board, said: 'As this report rightfully highlights, councils' public health teams have worked hard throughout the pandemic to help smokers quit, adapting services to reach out to residents so they can continue to provide vital support.
'Councils need long-term funding certainty to help Government achieve a smoke-free England by 2030. It is essential the public health grant is published as soon as possible, so they can get on with planning ahead for an expected surge in demand.'
Responding to a query about the public health grant last week, a Department of Health and Social Care spokesperson said: 'We understand local authorities need certainty to plan for the vital public health services they provide. Public Health Grant allocations for 2022/23 will be confirmed shortly.'