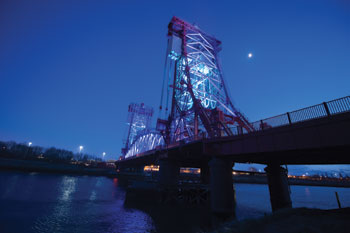 Stockton-on-Tees Borough Council says it wants decorative lighting to play a significant role in 'transforming the look, feel and spirit of the borough'. The Newport Bridge Architectural Lighting goes a long way towards achieving this aim.
Newport Bridge is a Grade II listed structure that dominates the skyline of the River Tees, linking the town of Stockton-on-Tees with Middlesbrough. Originally a vertical-life bridge of complex steel construction, it now serves as a key distributor road that carries up to 22,500 vehicles each day.
To celebrate the bridge's 80th anniversary, the council painted a significant proportion of the bridge silver and recruited Stainton Lighting Design Services to design a colour lighting scheme that would help create a 'vibrant' image for the borough.
Stainton Lighting adopted an 'inside-out' design philosophy, lighting the bridge with LEDs in a manner that creates unique shadowing and highlights the three dimensional depth of the steelwork.
The default colour display of the bridge is 'pure white'. However, links to other distinctive feature lighting displays throughout the borough will make use of a fully controllable colour changing arrangement to commemorate or celebrate specific events or show allegiance with particular causes.
Due to the bridge's Grade II listed status, drilling within the fabric of the structure had to be avoided. Non-invasive fixing methods including free-standing units, girder clips and custom-made clamping arrangements were developed by Powercare Limited, the local firm that looked after the installation side of the project.
While the previous scheme utilised 76 lighting units – compared to 137 now –, the use of LED's in the new, £250,000 scheme saw a 78% reduction in energy consumption combined with a significant reduction in maintenance liability.
It is estimated that the previous lighting scheme cost approximately £8,195 per year to run. In comparison, the new lighting scheme operating dusk till midnight will be £1,797 – representing an annual saving of £6,400.
Submitted by: Phillip Hardie, engineer, Stockton-on-Tees Borough Council
Design: Stainton Lighting Design Services
Suppliers: Urbis Schreder Lighting, Maclean Electrical, Charles Endirect and Exterior Lighting Solutions
Paving: Weinerberger, Tobermore, Blanc de Bierges
Seating: Hardscape
Lighting: iGuzzini
Photography: Roger V Moody
You can visit the Street Design Awards website for further details about the competition.