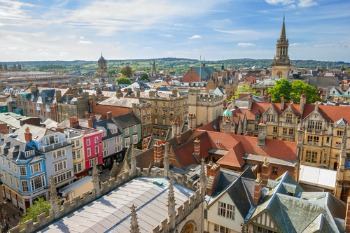 A proposal to abolish six councils and create a new 'unitary' authority in Oxfordshire looks set to save the county £100m.
Oxfordshire is run by a two-tiered local government - a county council plus five district and city councils - but reports suggest this is 'inefficient'.
Two independent studies by Grant Thornton and PwC initially put forward different suggestions for local government reorganisation.
However, they both concluded a unitary arrangement and increasingly joined up services would save £100m over the first five years.
'Councils in Oxfordshire have become a lot more efficient but we cannot continue to make savings without further cuts to local services,' said Oxfordshire CC leader Cllr Ian Hudspeth.
'I want local government's limited budget to be spent on improving services rather than running six separate organisations.
'We already know residents are confused about who does what. Our proposal for a district-based, unitary council can serve local communities while being more efficient and simpler for residents - one phone number, one website and one point of contact.'
He said the council could not afford to 'turn our back' on the £100m saving.
'While we delay reorganising local government, we are wasting around £400,000 every week on running six councils – per year, that would fill 307,000 potholes or provide home care for 1,687 older people or approximately one million hours of home care.'
Districts in Oxfordshire have continued to argue for a combined authority as being 'more effective in delivering the things government wants' after dropping their own reorganisation plans.
Cllr Bob Price, leader of Oxford City Council said it was 'the wrong proposal at the wrong time'.
He said: 'The creation of a single unitary council for the whole of Oxfordshire would be highly disruptive for local services and will take years to create. By contrast, a Combined Authority and Elected Mayor could be created very quickly, and that option has the support of our Local Economic Partnership (OxLEP) as well.
'The savings of £20m a year that are claimed is very small against a total budget of over £821m for the new authority, and fails to take account of the high costs of the transition in redundancies and reorganisations. That's just 2.4% savings a year which could be saved more easily by changing services within current structures.'
The Conservative leader of Norfolk CC admitted to The MJ that the two-tier system has 'run its course' following calls from UKIP members to consider going unitary.