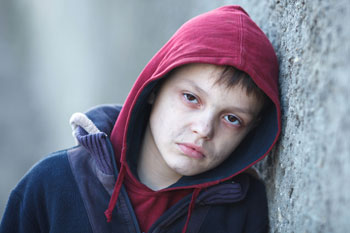 Dealing with the effects of poverty costs the UK £78bn per year, the equivalent of 4% of the country's GDP, think tank finds.
A new report from the Joseph Rowntree Foundation (JRF) found £69bn of annual public spending goes into dealing with the impact of poverty on people's lives.
The remaining £9bn is lost tax revenue and additional benefits spending such as Pension Credits and Employment and Support Allowance.
The JRF study, entitled Counting the cost of UK poverty, reported that £29bn a year, or 25% of all health spending, is spent treating health conditions associated with poverty.
It also revealed nearly 20% of the annual schools budget - £10bn - is spent on tackling the symptoms of poverty. This includes initiatives such as free school meals and the Pupil Premium.
Police and criminal justice account for £9bn of the annual poverty cost, due to the higher incidence of crime in more deprived areas.
The amount of money spent on children's services and adult social care to combat the impact of poverty also runs into the billions, the JRF discovered.
Children's services, including children's social services and early years provision, include £7.5bn of spending associated with poverty. Adult social care is associated with £4.6bn of the cost of poverty.
The research, carried out by Heriot Watt and Loughborough Universities on behalf of the JRF, also found housing adds £4bn to the annual public service cost of poverty.
JRF also argued experiencing poverty can have an effect on future costs. They estimated this results in £13bn in lost earnings each year, causing £4bn of lost tax revenues and £2bn extra benefit spending.
'It is unacceptable that in the 21st century, so many people in our country are being held back by poverty. But poverty doesn't just hold individuals back, it holds back our economy too,' Julia Unwin, JRF chief executive, said.
'Poverty wastes people's potential, depriving our society of the skills and talents of those who have valuable contributions to make. This drags down the productivity of our economy, hinders economic growth, and reduces tax revenue.'