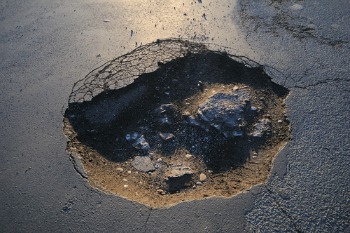 Councils paid out just one in four claims for vehicle damage caused by potholes over the last year, according to latest figures.
They also show there was one claim every 18 minutes during 2014-15 – down from one every 11 minutes the previous year.
The data came to light following freedom of information requests by the RAC Foundation to all local authorities in England, Scotland and Wales.
It showed that while councils on the whole turn down claims, there are wide differences between authorities. While Bury paid out in 88% of cases and Plymouth 86%, 21 councils rejected all claims.
Overall the average compensation awarded rose from £286 to £294 with successful claims worth a total of £2m.
Steve Gooding, director of the RAC Foundation, said: 'One reading of these figures could be that local roads are in better condition than they were. But that does not square with councils' own assessment that the road maintenance backlog is actually growing, not falling.
'It could instead be that many drivers are put off by the time involved in claiming against a council while councils themselves do their best to deter claimants coming forward. But 28,971 claims in one year is still a huge number – three an hour, every day of the year.
'Ahead of the general election an RAC Foundation poll found that the condition of roads and pavements was regarded as the number one transport issue amongst voters, just as it was back in 2010.
'Better roads don't just benefit car drivers. While potholes are an inconvenience for those on four wheels, they can be a matter of life or death for those on two.
''By his own calculations the chancellor has put the cost of tackling the road maintenance backlog at £8.6bn. This is a number that needs to be at the front of his mind when he concludes his spending review in November.'