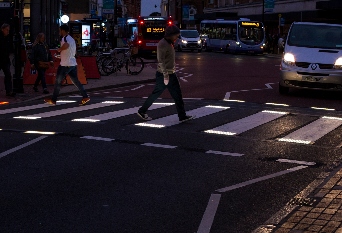 A Portsmouth crossing is the first in the UK to benefit from an innovative new lighting system aimed at improving safety.
A zebra crossing in the city has had LED panels installed in the road surface to make it more visible to drivers and encourage more people to use it at night.
The new lights were funded by roads contractor Colas and have been launched to coincide with the We Shine Portsmouth event which features artistic light installations across the city.
'We're always looking for new ways to improve road safety and I'm delighted we're the first place in the UK to use this innovative new technology,' said Cllr Lynne Stagg, Portsmouth City Council's cabinet member for Traffic & Transportation.
'We chose this crossing because it's very busy particularly at night with all the bars and restaurants, we want to make the crossing more visible and encourage more people to cross there safely.'
Ian Gibson, director of asset contracting at Colas Ltd, commented: 'We are delighted Portsmouth City Council is leading the way in innovative solutions to improve the road safety and street scene by using the Flowell system developed by Colas.
'This is another demonstration of the collaborative works between the council and Colas brought by the PFI project for the benefit of Portsmouth residents and visitors. It is a first in the UK and we are looking forward to sharing the results of this trial within the industry.'