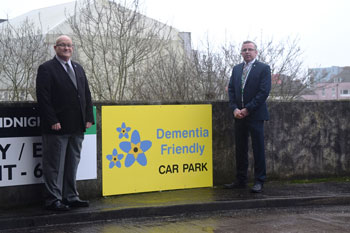 Parking spaces designed specifically for people caring for those with dementia have been unveiled by Plymouth City Council.
Thought to be the first of their kind in the UK, the 'dementia friendly' parking spaces have been introduced in two car parks across the city.
The spaces are on entry level and are close to the ticket machines and pedestrian exits. Parking staff have also received special training to help understand the parking frustrations faced by carers.
Councillor Ian Tuffin, the council's cabinet member for health and adult social care, said: 'The council welcomes this suggestion from the public to improve our dementia friendly city awareness and improve our services in this way.
'As a council we are committed to working with our partners to help Plymouth to become a more Dementia Friendly city.'
Plymouth has already been recognised by the Alzheimer's Society for its work to become dementia friendly. The Dementia Friendly Plymouth initiative is co-ordinated by a partnership of Plymouth City Council and the Plymouth Dementia Action Alliance (PDAA).