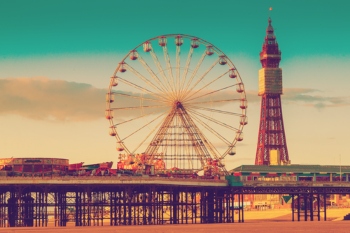 Blackpool will receive a beefed-up inspection regime to tackle rogue landlords and a King's Cross style regeneration programme under the Government's levelling up plans.
The Government said the plans will deliver a 'root and branch transformation' of the town, which has eight of the ten most deprived neighbourhoods in England.
It will receive more funding to scale up the local enforcement team to crackdown on landlords not meeting current standards. Homes England will also work with the council to improve its housing stock and quality of place.
It has also been chosen as one of 20 areas to receive a King's Cross-style levelling up regeneration and investment programme.
Cllr Lynn Williams, leader of Blackpool Council, said: 'We are very pleased that the Government is putting Blackpool at the forefront of its Levelling Up agenda.
'Locally, we have developed a unique partnership with business and the voluntary sector. Our ask of Government was to work with this partnership to help deliver a step change that will transform the lives of our residents and our communities.
'As a local authority, we have already achieved a great deal and demonstrated that we can deliver real and lasting change if we have the required funding and support from Central Government.'