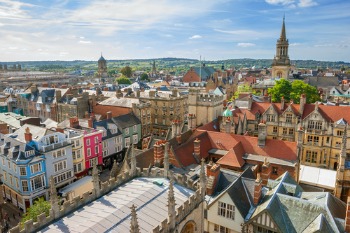 The Government has announced a 'spatial framework' plan aimed at transforming the economic and cultural potential of the area stretching between Oxford and Cambridge.
Housing minister Christopher Pincher said that the plan will help to create thousands of jobs, drive investment, protect and enhance the environment, and provide the infrastructure necessary to support growth across the Oxford-Cambridge Arc.
'We want to take this region to the next phase of its renaissance by unlocking its full potential and our plans will drive investment where it is needed and ensure, as growth happens, we create well-designed, inclusive and vibrant places and communities,' he said.
'The OxCam spatial framework will allow us to plan positively for growth and we look forward to working with our local partners over the coming months to strengthen our vision and approach to the Arc.'
The Arc, which spans Oxfordshire, Buckinghamshire, Northamptonshire, Bedfordshire and Cambridgeshire, is home to over 3.7 million residents and accounts for two million jobs.
The Government estimates that with the right level of investment, the economic output of the area could double to over £200bn.
Cllr Barry Wood, chair of The Arc Leaders Group and leader of Cherwell District Council, welcomed what he described as the Government's 'continuing commitment' to the Arc.
'We look forward to working together with local people and our local partners to deliver an economy that works for all, underpinned by a high-quality natural environment,' he said.
'This will include planning for and enabling development that is truly inclusive and sustainable which delivers real benefits for our communities and environment now and in the future.'
Commenting on the announcement of the plan – the results of which will be published in 2022 – Rachel Dickie, executive director – investment at Grosvenor Britain & Ireland, said that it needed to be ambitious on tackling climate change, as well as on delivering jobs and housing.
'A coordinated plan creates an opportunity to establish and implement new standards on carbon reduction, biodiversity and sustainable transport – proving that urban development and growth does not need to be at the expense of the environment,' she said.
Ms Dickie also stressed the importance of involving local people in the planning process.
'The risk with regional strategies is that they leave individual communities without a voice,' she said.
'That needs to be addressed head on in these plans, through a positive approach to engagement that aligns regional ambitions with priorities for individual communities – whether that's new homes, the regeneration of high streets or a reimagining of our cities after COVID.'