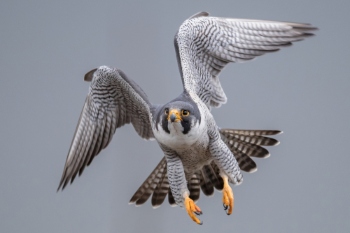 A pair of peregrine falcons are nesting on St Albans Cathedral for the first time ever thanks to a conservation project with the local authorities.
The Wilder St Albans project, a collaboration between Herts and Middlesex Wildlife Trust and St Albans City and District Council, has confirmed that the pair are now sitting on their eggs which have been laid very high up on the cathedral in a nesting tray.
The Wilder St Albans team linked up with local ornithologist and licensed bird-ringer, Barry Trevis, to construct and install the nesting tray at the Cathedral. The gravel-lined tray simulates the birds natural nesting sites usually found on cliff-top ledges and gives them a safe place to lay their eggs.
'This is hugely exciting news and we're delighted that the peregrines have been able to use the nesting tray,' said Wilder St Albans project officer Heidi Carruthers.
'Peregrine falcons are such an iconic species so it's fantastic to see them in the skies over St Albans. We're keeping our fingers crossed that the eggs hatch safely and the chicks fledge successfully.'