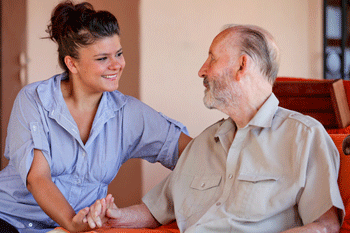 A huge bill owed by care homes who underpaid their workers for overnight sleep-in shifts has been waived, the Government has announced.
New guidance in October last year following two employment tribunals said previous advice was wrong and the national minimum wage should be paid for time spent sleeping in clients' homes.
But Mencap warned the bill for back pay going back as much as six years could total £400m and would be 'disastrous'.
The charity said many providers would be unable to meet the demands and could face insolvency.
Now ministers have announced the financial penalties owed by employers who have underpaid their workers for overnight sleep-in shifts before July 26 this year will be waived to 'minimise disruption to the sector' and enforcement activity temporarily suspended until October 2.
But the Department for Business, Energy & Industrial Strategy said the Government 'remained committed to making sure workers in this sector receive the minimum wage they are legally entitled to, including historic arrears.'
It would 'continue to look at the issue extremely carefully alongside industry representatives to see whether any further support is needed and ensure that action taken to protect workers is fair and proportionate, while seeing how it might be possible to minimise any impact on social care provision.'
Mencap chairman Derek Lewis welcomed the two-month stay in enforcement action and the decision not to levy penalties on top of the back pay bill, but said the moves would not address the 'catastrophic impact' of the back pay bill.
He said: 'Employers are keen to fulfil their responsibilities to employees, but if the Government changes the rules on how sleep-in payments should be paid, it must expect to have to pay for the changes.'