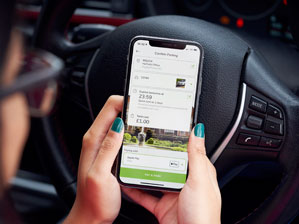 Mobile parking payment provider PayByPhone is rapidly expanding in the UK. The global leader in mobility services processed 28.3 million transactions last year and is seeing a huge uptake in app usage across the country.
The advantages of using a mobile payment system for local authorities are significant. Jonny Combe, PayByPhone's UK CEO, explains: "Cashless parking saves tax payers' money because there are no pay-and-display machines to maintain, vandalism is reduced and with no vans driving around to collect the cash, it is a more environmentally-friendly option."
Mobility solutions also offer councils insight into drivers' behaviour through data collection, which can be used to influence parking policies and high street behaviours.
And for the drivers who use mobile parking payments, they do not have to worry about carrying cash or debit cards. They can extend their parking sessions remotely, via a smartphone or smartwatch, and only pay for the exact amount of time parked.
For more information, please visit paybyphone.co.uk or contact Anthony Cashel on Tel: 07384 259955 or email: acashel@paybyphone.com