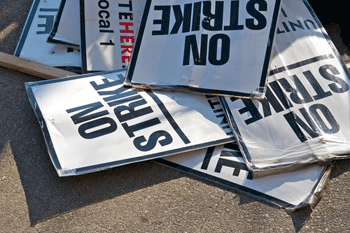 Council staff across Scotland have voted to strike over pay, in a decision expected to affect 'every area' of the country later this month.
Leaders at Unison said the decision by its local government members to approve industrial action for October revealed 'real anger' over wages and job cuts.
A ballot of over 71,000 local government Unison members saw 53.5% voting in favour of action and 46.5% against.
The union argues Scottish employers have imposed a 1% pay award on staff from April, which is below inflation and Retail Price Index. This comes on top of 14% falls in pay since 2007, Unison added.
Yet councils said they were 'dismayed, frustrated and extremely disappointed' by the plan, on a pay deal 'that is already settled and has been paid' and recognised by GMB and Unite.
Unison regional officer for local government Douglas Black said: 'Unison has consulted its members and the clear democratic decision is to take further industrial action. We will be running a programme of action, which will affect every area of Scotland.
'We do not take decisions like this lightly. Our members know how many people rely on our services. But local government pay has dropped 14% since 2007. We have seen 39,400 job losses. And Unison members feel they have to say enough is enough.
'Our demands are simple. Fair pay for all workers and an end to low pay, and for employers get back round the table to discuss the big issues facing local government. There is real anger out there and so they need to talk to us as soon as possible.'
Cllr Billy Hendry, Convention of Scottish Local Authorities (COSLA) HR spokesperson, said: 'I wrote to Unison directly making a personal plea that they back away from a harmful strike which will serve no purpose and hit the pockets of their member's weeks before Christmas but it seems I have been ignored.
'I asked them to recognise that this was not the time for industrial unrest in local government and that we should be concentrating our efforts on the next round of negotiations due to begin next month but which are now threatened as a consequence of this decision.
'By their own admission, based on published figures, nearly 90% of Unison members did not vote for strike action. It is utterly irresponsible of the Unison local government committee to claim any legitimacy for this action.'