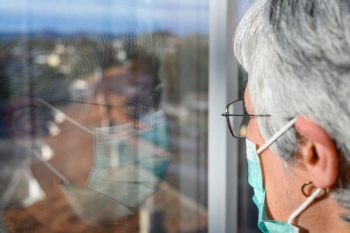 Urgent action is needed to tackle the unmet health needs and worsening mental health of those people asked to shield during the pandemic, a charity has said.
Research by the Health Foundation's Networked Data Lab (NDL) warns the pandemic had a 'devastating and lasting impact' on the four million people who were identified as 'clinically extremely vulnerable'.
It found those asked to shield experienced a higher rate of deaths compared to the general population, and were 'profoundly' impacted by the major reorganisation of NHS services in the early stages of the pandemic.
It also reveals that the clinically extremely vulnerable population may have significant unmet mental health needs as they were at increased risk of diagnosed depression and/or anxiety.
Kathryn Marszalek, senior analytical manager at the Health Foundation, said: 'Action is now needed by those planning the recovery at local and national levels to address the unmet need for NHS care and worsening mental health. Failure to prioritise the needs of the clinically extremely vulnerable population will inevitably result in further deterioration in their health, putting additional pressure on the NHS which is already struggling to deal with a massive backlog of care.
'Alongside this immediate support, further work is needed to understand the longer-term consequences for the clinically extremely vulnerable population, both in terms of long-term health care needs but also in terms of their ability to resume work and other daily activities. But this will be complicated by the current lack of high-quality data across the health and care systems.'
The research also said the way there were significant issues with the way the shielding patient list was compiled, exacerbated by the poor availability of high-quality data in the NHS and social care. A centralised algorithmic approach meant some people were not identified so did not have access to the support needed.
A Department of Health and Social Care spokesperson said: 'On 15 September we announced an end to the shielding programme based on our enhanced understanding of what makes individuals more or less vulnerable, the success of the COVID-19 vaccination programme, and the emergence of proven treatments.
'A range of support services continue to be available and we've invested an additional £500m this year to help people whose mental health has been particularly impacted by the pandemic. Our booster programme will ensure those most vulnerable to COVID-19 have protection extended ahead of winter and against new variants.'